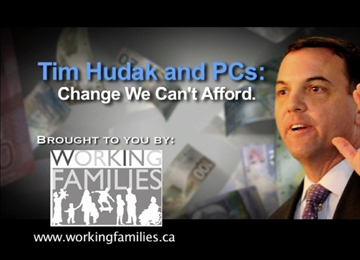 A new anti-union group has sprung up just as the Progressive Conservatives threaten to make labour issues a key ballot question in the next election.
With Ontarians expected to go to the polls as early as May, Working Canadians wants to raise awareness about the influence of "union bosses" on the province.
Like Working Families, a coalition of unions that has successfully run ads attacking the Conservatives in the 2003, 2007 and 2011 provincial elections, Working Canadians considers itself non-partisan.
"Part of the purpose is to counter the Working Families and that type of organization," spokesperson Catherine Swift, chair of the Canadian Federation of Independent Business, said Monday.
Swift stressed the CFIB is not officially part of the new organization, which is run by volunteers and funded by small businesses and Merit Canada, which lobbies for "open shop," or non-union, construction companies.
"It's not partisan, it's just making sense," she said, noting a decade of hefty contracts to unionized public servants, such as teachers, nurses, and police officers, has helped create a "structural deficit" in Ontario.
Working Canadians, which notes Working Families and other pro-union advocacy groups spent millions in the 2011 election, plans to air radio ads in the months ahead.
"The average taxpayer doesn't have a clue about this," said Swift, expressing concern that Ontario could "go the way of Greece or Detroit" unless spending is reined in.
To that end, she would like to see widespread open tendering of contracts so non-unionized shops could more easily bid on public contracts.
Coincidentally, that's the message the Tories plan to take to voters in the next election as leader Tim Hudak aims to topple Premier Kathleen Wynne's minority Liberals.
PC MPP Monte McNaughton (Lambton-Kent-Middlesex) on Monday took aim at "union elites" like Ontario Public Sector Employees Union president Warren (Smokey) Thomas.
McNaughton said OPSEU members should be allowed to opt out of the union and no longer pay dues.
"We're standing on the side of union-paying members and working people," he said.
Critics charge the Tories' so-called "right-to-work" policy is inspired by some lower-wage American states where unions have been defanged to appease business owners.
OPSEU's Thomas, for his part, challenged Hudak to a debate on the controversial proposal and suggested respected former Conservative leader John Tory serve as the moderator.
Labour Minister Yasir Naqvi, meanwhile, derided the Tories' plan as "the right-to-work-for-less as we have seen in the United States."
"It results in a net reduction in wages and benefits for both unionized and non-unionized workers. It results in a net loss in jobs," said Naqvi.
NDP House Leader Gilles Bisson said the Conservatives are marginalizing themselves by veering so far to the right and bashing union members and their representatives.
"How do you take seriously anything the Tories are saying? They've been, for the last two years, at the sidelines of the legislature, jumping up and down, spitting nickels, saying all kinds of silly things," said Bisson.
"They're obviously doing it for effect."