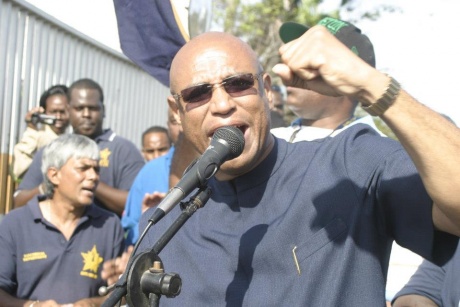 On 13 March, thousands of employees of the state-owned oil company Petrotrin, members of the Oil Workers Trade Union (OWTU), affiliated to IndustriALL Global Union, stopped work and demonstrated in front of the company's offices in Point-a-Pierre, Trinidad and Tobago, to protest at the company's failure to comply with the terms of the collective agreement signed one year ago.
On the second day of the strike, OWTU leadership attended the demonstration. Union president general, Ancel Roget, said the company had agreed to fill 800 vacancies, make casual workers permanent, make the work environment safe and settle outstanding payments for the period 2009-2010. These commitments have not been enacted by the company.
Roget regretted that the press has only focused on the payment arrears. He said:
This struggle is not mainly about money, although that is important; it is about honouring the collective agreement.
The workers say that Petrotrin, which supplies petrol and oil to Caribbean and Central American countries, is not honouring its agreement to pay them a percentage of the profits generated by the industry. The company said it did not make a profit in the last financial year and so there were no profits to share with employees.
Workers are calling on the company to comply with the terms of the collective agreement and other bilateral agreements reached with the union one year ago.
After one week on strike and several unsuccessful attempts to negotiate, Petrotrin's lawyers have won an injunction against the OWTU forcing the workers to return to work.
Ancel Roget said that the court action would not solve the crisis at Petrotrin: "Workers will go back to work feeling demotivated and demoralized. An injunction doesn't take care of poor management and nepotism." He added that workers will continue to fight for a safe working environment.
IndustriALL Global Union salutes the strong campaign of OWTU in demanding respect for the collective agreement at Petrotrin and decent working conditions for its members.