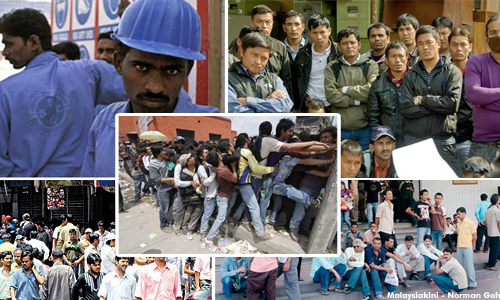 A multinational electronics company has denied the accusation that it breached the law by utilising outsourcing agents to employ foreign workers.
However, according to the Malaysian Trades Union Congress (MTUC), passports of foreign workers employed by the said company were being held by the outsourcing agents, which led to the arrest of one such worker.
In making the claim, MTUC Selangor division chairperson Wan Noorul Azhar Mohd Hanafiah (left) told Malaysiakini that although working contracts are from the company, workers' affairs are handed to the agents to be handled.
The situation involves 200 foreign workers, a majority of them from countries such as Nepal, Myanmar and Indonesia.
"Since they don't hold their passports, these workers are at a high risk of getting caught by the police.
"Currently, one has been caught and is still in the lock-up," he said.
Initially placed at the Bandar Baru Klang police station, the foreign worker in question was transferred to the Section 9 Shah Alam police station.