One of IndustriALL Global Union's affiliated garment worker trade unions in Cambodia, the FTUWKC, has suffered a serious backlash for striking in demand of a US$14 monthly pay increase. IndustriALL is working with Nike to intervene.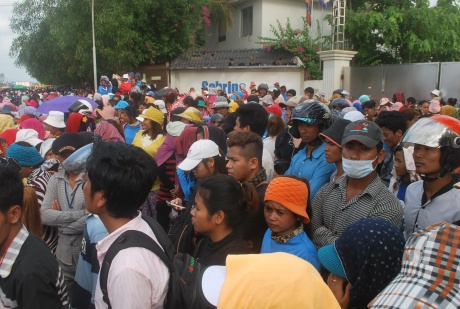 The workers at the Sabrina factory in Kampong Speu province, west of the capital Phnom Penh produce for Nike, Wilson Sports Apparel and Lululemon Athletica. The latest development in the concerning case is the mass-sacking of 415 workers identified by Sabrina management as participating in the strike.
Say Sokny, General Secretary of the Free Trade Union of Workers of the Kingdom of Cambodia, reports that arrest warrants were issued for 16 workers identified by the Sabrina management as instrumental in the trade union campaign. Eight of the 16 are in jail and the others are in hiding.
The arrested trade union activists must be released immediately without prejudice. They have been transferred to the provincial prison.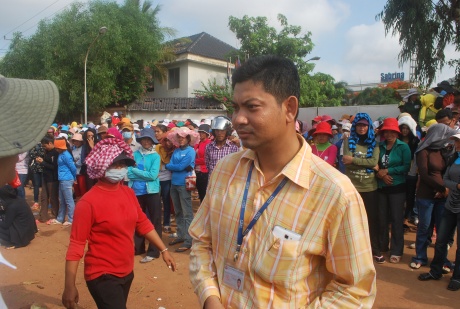 Sokny reports that management are forcing workers to give their finger prints in a continued effort to intimidate and dismiss those supporting the strike and calling for the release of the eight imprisoned trade unionists. Hundreds remain mobilized at the plant gates demanding their release.
Brother Sun Vanny President of the Sabrina factory FTUWKC Local has informed IndustriALL of the background to the dispute whereby an agreement signed on 30 January 2013 between management and the union was never honoured by management. The agreement covered a number of improved employment conditions.
Following six months of increased intransigence from management, FTUWKC demands put forward on 9 May included the monthly salary increase of US$14 onto the previous US$74 level, in line with the 1 May national increase to the minimum wage. The other key union demand is for workers employed on temporary contracts to be automatically converted to permanent employment status.
Without a positive management response to these demands, FTUWKC led a seven-day strike from 21 May and again from 3 June. Approximately 4,000 of the total 5,300 workforce took strike action. Negotiations to end the strike were supported by the Labour Ministry, but no counter proposal was put forward by management. Chea Mony, national President of FTUWKC took part in the failed negotiations.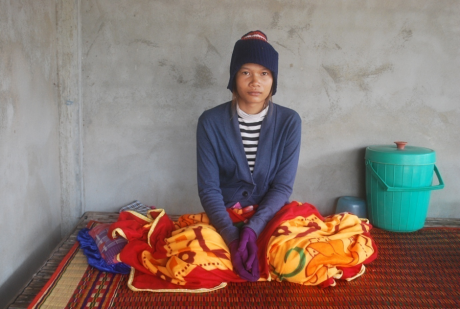 During the strike workers have been aggressively dispersed by over 1,000 riot police wielding stun batons on numerous occasions. Over 30 workers have been injured including two pregnant women who lost their babies when pushed to the ground by police on 27 May.
IndustriALL supports its affiliate's demands for settlement to be reached, justice for the two women who lost their babies, the eight arrested workers to be released immediately, all 415 dismissed workers to be reinstated and for local Sabrina management to enter into good faith dialogue and positive industrial relations going forward. It is IndustriALL's expectation that Nike, Wilson and Lululemon strongly intervene to ensure these demands are met.