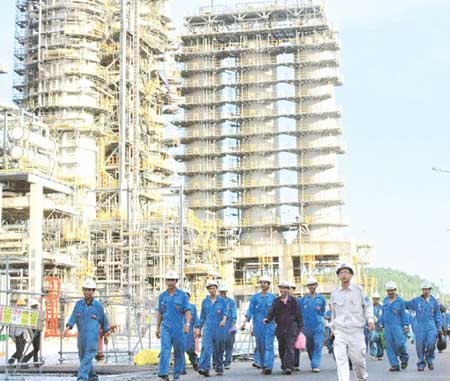 Workers of the Dung Quat Oil Refinery Factory changing shift. Trade union organisations were urged to promote democracy at grassroots level, step up social activities and encourage workers to exercise their rights.
VietNamNet Bridge – The 11th Congress of the Viet Nam General Confederation of Labour (VGCL) for the 2013-2018 tenure, opened in Ha Noi yesterday, July 28, aiming to develop a stronger workforce, more ably equipped to protect their legitimate rights and interests.
The congress was attended by 950 delegates, representing nearly eight million trade union members nationwide as well as delegations from foreign trade union organisations, including the World Federation of Trade Unions. To mark the occasion, 22 international trade union organisations sent their greetings to wish the congress every success.
One of the first reports presented to congress stressed that over the last five years, trade union organisations nationwide have reached all the main targets set by the 10th congress.
The trade unions gathered contributions from every level on the drafting of a plethora of legislation and polices that relate to workers, especially the 2012 Law on Trade Unions and the 2012 Labour Code.
Patriotic emulation campaigns launched by the trade unions have also made a considerable contribution to completing socio-economic tasks, with the best examples being the construction of Dung Quat oil refinery, Son La hydro power plant, Lai Chau hydro electric power station and the Ca Mau fertiliser factory.
Addressing the congress, Party General Secretary Nguyen Phu Trong stressed that the working class has made many substantial contributions to the country.
He asked that over the next five years, the trade unions, at every level, grasp the ideologies of the 11th Party Congress Resolution, Political Programme and Socio-Economic Development Strategy for the New Period.
This, as well as a resolution to build up the working class, would bolster the industrialisation and modernisation process.
He stressed that trade unions should represent the workforce and protect their legitimate rights and interests.
They needed to become more involved in labour negotiations with employers and be involved in the signing and implementation of collective labour agreements as well as dealing with labour disputes.
The Party leader also urged trade union organisations to pay more attention to promoting democracy at grassroots level, stepping up social activities and encouraging workers to exercise their rights.
He said the Viet Nam General Confederation of Labour (VGCL) should enhance its role as a socio-political organisation that represents the strengths and interests of its members.
He also asked the organisation to look for ways of attracting more members and hold more social activities that involve every economic sector. At the same time, the VGCL needs to push for the setting up of trade unions in the private sector, joint ventures and foreign-invested economic sector.
Also on the same day, the congress elected the Executive Board for the 11th VGCL and heard a report on amendments to the VGCL Charter.
copy from :::http://english.vietnamnet.vn