Jan 10, 2014 at 10am KCTU and its affiliates, KTNC Watch, and many other civil society organisations had a protest action in front of the Ministry of Foreign Affairs to ask its responsibility of the involvement in the bloody repression.
Labor groups rally to protest S. Korean involvement in Cambodian crackdown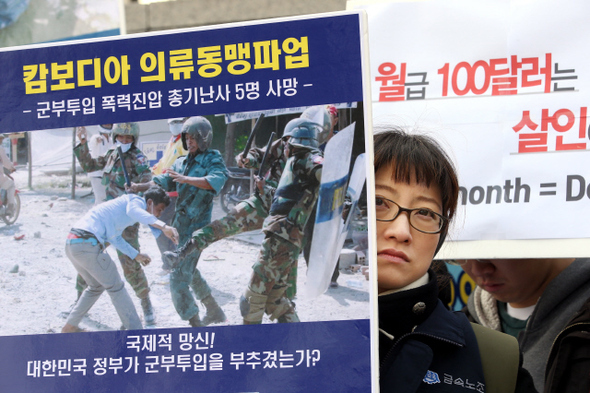 Groups condemn S. Korean embassy request that Cambodian military break protests to protect Korean companies
By Lee Jae-wook, staff reporter
A recent bloody crackdown on striking workers at a Cambodian clothing factory reported reportedly took place after the South Korean government and companies urged the local government to address the strike.
Representatives of 26 human rights and civic groups, including Korean House for International Solidarity, the Korean Confederation of Trade Unions, and People's Solidarity for Participatory Democracy, gathered in front of the Ministry of Foreign Affairs in Seoul on the morning of Jan. 10 to decry the bloodbath.
"At least five people were killed and 23 wounded in the indiscriminate violence waged by Cambodian police and soldiers," the group said. "This was an unprecedented suppression of human rights where the military was brought in at the request of the South Korean embassy and businesses because of a peaceful demonstration by workers, citizens, and even Buddhist monks."
According to the groups, after the workers launched their strike on Dec. 23, the South Korean embassy contacted senior officials in Cambodia on Dec. 27 to request a resolution. A formal letter was reportedly sent to the Cambodian justice ministry and relevant government ministries on Dec. 30 to request protections for South Korean businesses.
Not long after the embassy took action, a special airborne unit were brought in on Jan. 4 to arrest demonstrators in front of the garment factory for a South Korean company called Yakjin, which supplies products to Gap and Walmart.
As was reported by international news website GlobalPost, the embassy also posted a Jan. 5 message on Facebook reading, "A letter in the ambassador's name has been sent to Prime Minister Hun Sen, and we have contacted the head of the national anti-terrorism community to express our concerns. We believe this prompted local government authorities to take the situation very seriously and respond promptly."
The embassy deleted the message on Jan. 8 to "avoid unnecessary misunderstandings."
The Ministry of Foreign Affairs also responded on its homepage to allegations of involvement in the crackdown.
"We did request a general level of protection early on in the demonstrations, but a stronger level was requested after violence broke out and the safety of South Korean citizens and companies was threatened," it explained, adding that it had "never requested strong-arm suppression tactics."
It also dismissed allegations that company K requested military support as "groundless."
Workers at South Korea, Chinese, and Japanese clothing factories in Cambodia have been on strike since Dec. 23 to demand the monthly minimum wage be doubled from its current US$80 to US$160.
Please direct questions or comments to [english@hani.co.kr]