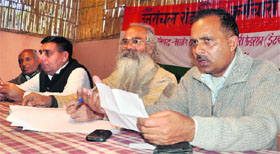 Leaders of the Uttaranchal Roadways Employees' Union
Chandigarh:
Roadways employees union in Haryana today split over the issue of strike with some sections calling off the stir after government accepted "most of their demands" even as some two lakh workers of different departments, boards and corporations struck work.
At least five different unions of roadways employees had a four-hour long marathon meeting with Industry Minister Randeep Singh Surjewala at his residence here, officials said in Chandigarh.
The meeting started at midnight last night and ended at 3.45 am.
"After the successful completion of meeting with the representatives of Haryana government, the roadways employees unions called off their strike," Haryana roadways employees' coordination committee members Dalbir Nehra told reporters.
"The talks with Haryana government have yielded positive results on their demands," he said.
Among the unions that participated in the meeting included All Haryana Roadways workers union, Haryana Roadways combined employees organisation, Roadways Karamchari union, Haryana roadways workers union and Haryana roadways ministerial staff association.
Mr Surjewala said the meeting was "fruitful and both employees and the government reached agreement on several issues concerning roadways employees. Now, the Haryana roadways employees union has withdrawn their strike."
He said the state government is committed to regularize 8,500 contractual employees with the roadways. All roadway employees as per their appointments since 2003 will get salaries but will not get arrears, he said.
However, another union - Haryana roadways Karamchari Sangh - led by Sarvat Singh Poonia said the strike call off is "partial."
He claimed that buses of some depots including Fatehabad, Sirsa, Jhajjar, Jind, Mewat, Hisar and Faridabad are not operating today.
"Our union has strength of some 10000 employees and they are continuing with their strike by not plying buses," he said, adding employees of the union are staging protests at workshops, bus stands and depots.
Meanwhile, Haryana Sarv Karamchari Sangh General Secretary Subash Lamba said around two lakh employees of different government departments including health, power, education, corporations, boards and universities have gone on a strike.
Mr Lamba claimed that power supply had been disrupted in districts of Hisar, Jind, Faridabad, Jhajjar and Mewat due to the strike.
He said the government had not accepted their prime demand of cancellation of 3,519 route permits to private bus operators across Haryana given by the Bhupinder Singh Hooda government.
Mr Surjewala said the department will take a decision on private routes soon.
Haryana roadways has a fleet of some 4000 buses and an employee strength of 18,000.
The strike call by different unions of various departments is till January 23.
source:::http://www.ndtv.com