At a press conference today in Jakarta, Said Iqbal president of IndustriALL affiliate FSPMI and the KSPI confederation, together with Jyrki Raina, secretary general of IndustriALL Global Union, sent a clear message to the Indonesian government: the minimum wage must be raised to a living wage and all workers must benefit from social security.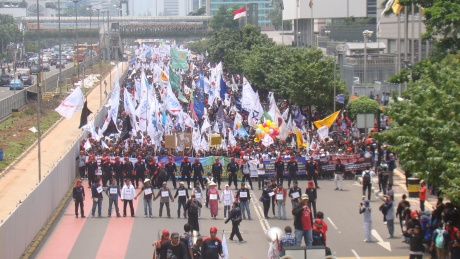 IndustriALL Global Union secretary general Jyrki Raina expressed the global union's full support for the Indonesian trade unions' campaign for continued increases of minimum wages to secure a living wage, the social security reform and limiting outsourcing in favour of decent jobs.
At a meeting with the director general of the Ministry of manpower on Thursday, Jyrki Raina conveyed the message that wage increases are nothing to fear.
"Last year, we saw increasing minimum wages in many countries around Asia. Unions in Bangladesh managed to get a 77 per cent increase in 2013, and the minimum wage in China is already higher than in Indonesia. It is high time that Indonesian workers and their families get their share of the profits they actually help create."
President of the FSPMI and the KSPI Said Iqbal said that for 2015, the unions would ask for a 30 per cent increase of the minimum wage.
"We need a good minimum wage if we want to build a welfare state. And we refuse to wait."
Earlier in the week, KSPI members came out in full force on the streets of Jakarta as 30 000 workers rallied for an increased minimum wage and access to the general health insurance promised by the government.
The universal health insurance is meant to apply to all citizens in Indonesia from January this year, but it still leaves more than 10 million people lacking cover. Now there are increased concerns to secure the pension reform agreed to enter into force as of 1 July 2015. Increased social security will help people move from the informal to formal sector. Employers' attempts to draw back already adopted reforms are a threat to social peace and Indonesia's path towards prosperity for all citizens.
Jyrki Raina concludes:
"Although the Indonesian trade unions have achieved a great deal, struggles lie ahead. But with their force, commitment and ability to organise I'm convinced that we will see the minimum wage move closer to becoming a decent wage. Indonesian trade unions are an inspiration to us all."
source:::http://www.industriall-union.org