The 2014 yearly wage bargaining Spring Labor Offensive by the Japanese metalworkers' unions achieved reasonable results.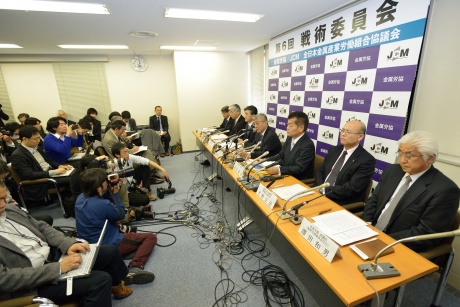 Over 50 unions representing workers of large companies in automotive, ICT electrical & electronics, machinery, steel and shipbuilding industries affiliated to Japan Council of Metalworkers' Unions – JCM made their input to a successful collective bargaining campaign resulted in the biggest pay rise for workers in the last 15 years when the Japanese economy has been suffering from deflation.
Among others JCM quotes the following achievements:
All trade unions managed to secure regular pay raises as part of the wage structure, which in practice means a hike of some 2 per cent or around 6,000 yen monthly.

In addition to maintaining the wage structure level 49 out of 52 unions succeeded to negotiate additional 1,737 yen increase which together with the regular pay rise will mean some 8,000 yen monthly increase.

88 percent of the unions managed to bargain an annual bonus equal to 5.1 months of salary, an increase over the previous year's levels.

Some 19 unions managed to negotiate an additional monthly hike to the minimum wage at the company level.
In the statement regarding the achieved results during the Spring Labor Offensive 2014 JCM declared, "We would like to make the results of today's responses known throughout Japan and promote activation of the economy by investing in people through higher monthly wages and better working conditions."