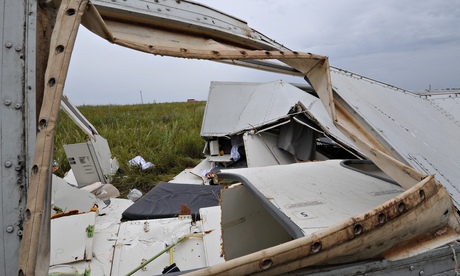 They were among 298 victims of the apparent missile attack, almost two thirds of whom were Dutch nationals, with Malaysians and Australians the next most numerous. Among the dead were a series of leading researchers into HIV/Aids, holidaying families, a member of the Dutch senate, football supporters, teachers, a nun and a relative of Malayia's prime minister, Najib Razak.
The search for remains in Ukraine, involving emergency workers, police officers and off-duty coal miners, has recovered 181 bodies so far.
While the exact details remain uncertain, the latest figures indicate that those killed in the disaster included 189 Dutch nationals, 44 people from Malaysia – including 15 crew members and two infants – the 27 Australians, 12 people from Indonesia – including one infant – nine Britons, four people from Germany and Belgium, three Philippines nationals and one person each from Canada, Hong Kong and New Zealand. The origin of the remaining victims has yet to be determined.
Flags were flying at half mast across the Netherlands as grieving relatives began to gather in a hotel at Amsterdam's Schiphol airport, from where the flight took off for Kuala Lumpur. The country's prime minister has called for an independent investigation, saying the bereaved "have the right to know what happened".
Among the Dutch nationals on the flight was Joep Lange, a pioneering Aids researcher, who is reported to have died along with his wife, Jacqueline van Tongeren. The couple reportedly had five daughters.
Denis Napthine, the premier of Victoria state, of which Melbourne is the capital, said: "There's been confirmed a number of senior people who were coming out here who were researchers, who were medical scientists, doctors, people who've been at the forefront of dealing with Aids across the world."
Lange, a professor at the academic medical centre at the University of Amsterdam, had researched HIV/Aids for more than 30 years and was known as an advocate for access to affordable drugs in poorer countries, colleagues said.
"He's one of the icons of the whole area of research. His loss is massive," Richard Boyd, professor of immunology at Monash University in Melbourne, told Reuters.
"The cure for Aids may have been on that plane, we just don't know," Trevor Stratton, an HIV/Aids consultant attending a pre-event in Sydney, told Australia's ABC. "You can't help but wonder about the kind of expertise on that plane."
A Briton on board the plane was also en route to the Aids conference. Glenn Thomas, 49, was a media officer at the World Health Organisation in Geneva, and a former BBC journalist.
Also confirmed among the British victims were John Alder and Liam Sweeney, fans of Newcastle United heading to New Zealand to watch the Premier League football team play a pre-season tour, and student Richard Mayne.
Many others on the flight were holidaymakers, including several children. Nick Norris, 68, from the Australian city of Perth, was travelling with his three grandchildren, Mo Maslin, 12, Evie Maslin, 10, and Otis Maslin, 8, according to a statement from his family.
One Dutchman, Sander Essers, told Agence France-Presse that his brother, sister-in-law and their children, aged 17 and 20, died while travelling to Borneo to explore the jungle.
Another Dutch national, Cor Pan, had been heading for a beach holiday in Malaysia. He posted a photo of the plane on Facebook just before it took off, with the message, "If it should disappear, this is what it looks like," a joking reference to MH370. Pan was travelling with his girlfriend, named so far only as Neeltje, who owned a flower shop in the fishing town of Volendam. A note taped to the front of the shop on Friday read: "Dear Cor and Neeltje. This is unwanted, unbelievable and unfair. Rest in peace. We will never forget you."
Among confirmed Australian victims were Sister Philomene Tiernan, a 77-year-old teacher at a Catholic school in Sydney, and another teacher, Frankie Davison, from Melbourne, who died with her husband, Liam.
In Kuala Lumpur, Akmar Mohamad Noor, 67, said her older sister was coming to visit the family for the first time in five years. "She called me just before she boarded the plane and said, 'See you soon.'"