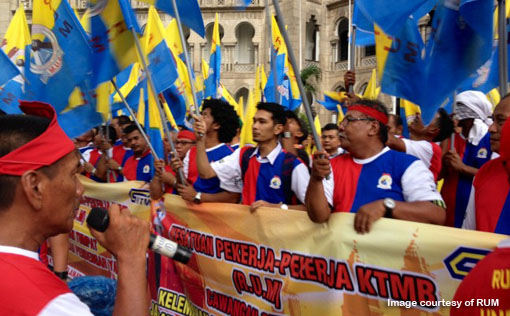 Malaysian Trade Union Congress in a press release said that it will be sending a
memorandum to the Chief
Executive of Keretapi Tanah Melayu Berhad (KTMB) on October
3, after being clearly
disappointed in the way
KTMB handled the sacking of its 37
employees.
MTUC is a federation of trade unions and registered under the Societies Act,
1955. The unions affiliated to
MTUC
represent all major industries and sector with
approximately 500,000 members.
MTUC General Secretary, N Gopal Kishnam wants KTMB
to resinstate the sacked employees immediately as
this clearly infringes the rights of the
workers and contravenes the laws which protects the workers.
"What they (KTMB workers)
did was only picketing and (it) did not disturb the companies operations, furthermore
their actions are allowed under the Section 40 of the Industrial Relations Act" said Gopal.
Gopal also said that apart from the sacked 37, almost hundred employees has been given
showcase letters by
KTMB.
This shows as though they are targeting the union leaders," he
said.
"We have sent a letter to Prime Minister and Transport Minister on this issue over a month
ago but none has responded so far," said Gopal, who also feels that this a blatant act of
union busting.
Gopal said that the sacking of the 37 employees makes it worse because KTMB is a
government linked company and for them to do this, is like the government itself is behind
this.
The act of union busting by KTMB was earlier highlighted by Railwayman Union of
Malaya
(RUM) president Abdul Razak Md Hassan during a press conference.
"It feels as though the unions cannot voice out the grievances and issues faced by workers,"
said Abdul Razak, who quoted section 117 of the Industrial Relations act, which exemplifies
this act as union busting.
On September 3, KTMB sacked RUM's President Abdul Razak and it's Vice President R
Subramaniam, which was followed by 35 other employees. More than 100 other employees
was issued with show cause letters.
source:::http://cj.my