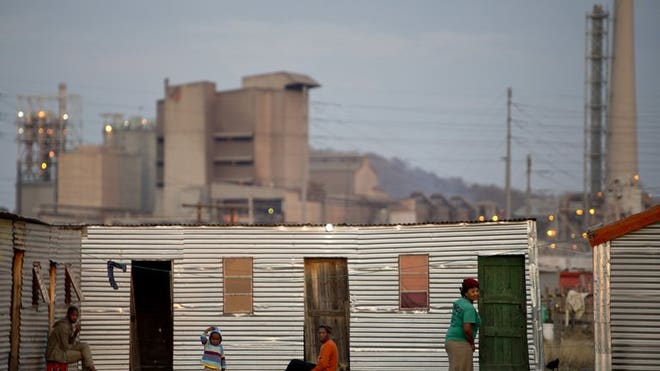 JOHANNESBURG (AFP) –

South Africa's long-dominant mining union mounted a last-ditch legal battle to halt the rise of a rival militant union Wednesday, taking allegations of membership "fraud" to government mediators.
Hours after the National Union of Mineworkers (NUM) was stripped of its coveted status as the largest union at Lomin's troubled Marikana platinum mine, the union appeared before government arbitrators.
It alleged the Association of Mineworkers and Construction Union (AMCU) inflated membership numbers at Lomin's troubled Marikana mine in a bid to gain dominant status -- which affords a series of perks and more weight in wage negotiations.
"We are claiming there is massive fraud that has taken place," NUM spokesman Lesiba Seshoka told AFP, refusing to name the culprits.
"About 8,000 forms submitted to Lonmin were invalid," he added.
A labour court on Monday rejected a similar application by the union.
Almost a year ago police shot dead 34 miners at Marikana, fuelling union rivalry that has since seen rolling strikes and rival labour leaders assassinated.
AMCU has won over supporters by taking a hard line on wage negotiations.
Last September just over half of the lower categories of Lonmin's 28,000-strong workforce were NUM members, and 21 percent belonged to AMCU.
Today Lonmin is negotiating majority status with AMCU, whose members have risen to 70 percent of the lowest categories, said company spokeswoman Sue Vey.
AMCU has already secured chief bargaining rights at Impala Platinum and Anglo American Platinum.
copy from:::http://www.foxnews.com