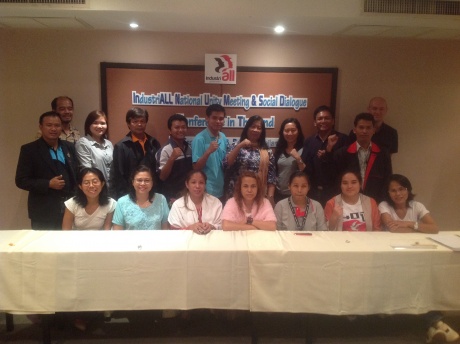 Since the formation of IndustriALL Global Union, IndustriALL affiliates in Thailand have jointly started a series of discussions to strengthen the Thai union movement, in an effort to unite the Thai labour movement and fight precarious work in all its forms.
At the Unity Meeting held on 7-8 September in Bangkok, union representatives from the Confederation of Thai Electronic, Electrical Appliances, Auto and MetalWorkers (TEAM), the Textile, Garment and Leather Workers Federation of Thailand (TWFT), the Electricity Generating Authority of Thailand Labour Union (EGAT LU), PTT Labour Union (PTT LU), the Chemical Workers Union Alliance (CWUA), the Paper and Printing Unions Federation of Thailand (PPFT) and the Petroleum and Chemical Unions Federation of Thailand (PCFT) expressed their commitment to work together.
A key strategy has been the work towards setting up the new Confederation of Industrial Labour of Thailand (CILT), which will bring together TEAM, the Automobile Labour Congress of Thailand (ALCT), TWFT and the unions that earlier formed the ICEM Thai Council i.e. EGAT LU, PTT LU, PPFT and CWUA.
We are working hard to form the new Confederation CILT, but we also understand that we cannot be hurried as we have to take into account the different cultural, historical as well as social economic aspects of each founding organisation. But we are hopeful that the new Confederation will be successfully formed as each affiliate of IndustriALL Global Union is committed to building unity and foster greater solidarity among the working population, not only for Thailand but also internationally,
said Chalee Loysoong, president of TEAM.
CILT will represent at least 153,000 workers in the electronic and electrical appliances, auto, steel, chemical, rubber, materials, paper, textile, garment, leather, oil, gas and electricity in Thailand. These industries employ millions of Thai and migrant workers from, among other, Myanmar, Cambodia and Laos.
Thailand is the second largest economy in Southeast Asia, with a workforce of 40 million. It receives a lot of foreign investment, including from major multinational companies from OECD countries. At the same time, Thailand has a very poor record on trade union rights and, often as a result of that, very few workers belong to trade unions.
For the day of action to STOP Precarious Work on 7 October, IndustriALL affiliates in Thailand take to the streets of Bangkok to campaign for the ratification of ILO Core Labour Rights, Convention 87 and 98. They will also formally announce the creation of CILT on that day.