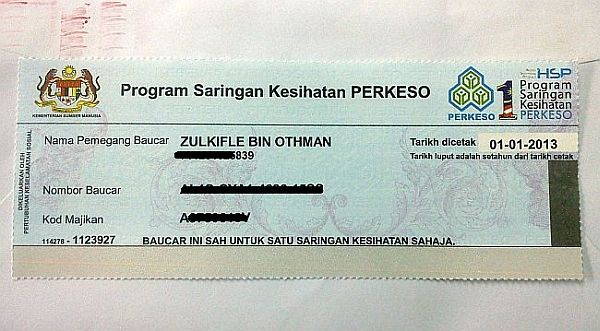 PUTRAJAYA, Dec 18 (Bernama) -- The Social Security Organisation (Socso) has extended the validity period of its health screening vouchers ending this Dec 31 by another six months to June 30, 2014.
Its chief executive Datuk K. Selvarajah said this was because Socso found that many of workers who received the vouchers had not gone for the health screening yet.
"This year, we have issued the free health screening vouchers to 1.9 million Socso contributors and to date, only 280,000 workers have undergone the health screening.
"We decided to extend the validity period of the health screening vouchers in line with the government's aim of enabling more workers to know their state of health and to benefit from taking early prevention measures against diseases," he said in a statement, here, today.
Under the Socso health screening programme, Socso contributors aged 40 and above are eligible for a free health check-up to prevent the risks of getting non-communicable diseases.
The health check-up can be had at any of the 3,051 private clinics, 220 medical laboratories or 24 mammogram centres throughout the country.
Selvarajah said 125,094 workers had already undergone the health screening between January and July this year under the programme.
He said Socso was now in the process of issuing the vouchers to another 266,087 workers who would reach the age of 40 next year.
For enquiries on the Socso health screening programme, call the hotline at 03-42645089/03-42521258/4475/4476, email to hsp@perkeso.gov.my or visit sehat.perkeso.gov.my.
source:::http://www.bernama.com.my