Malaysian employers have been urged to let Nepalese workers fly home and pay
salaries early to help them support their families.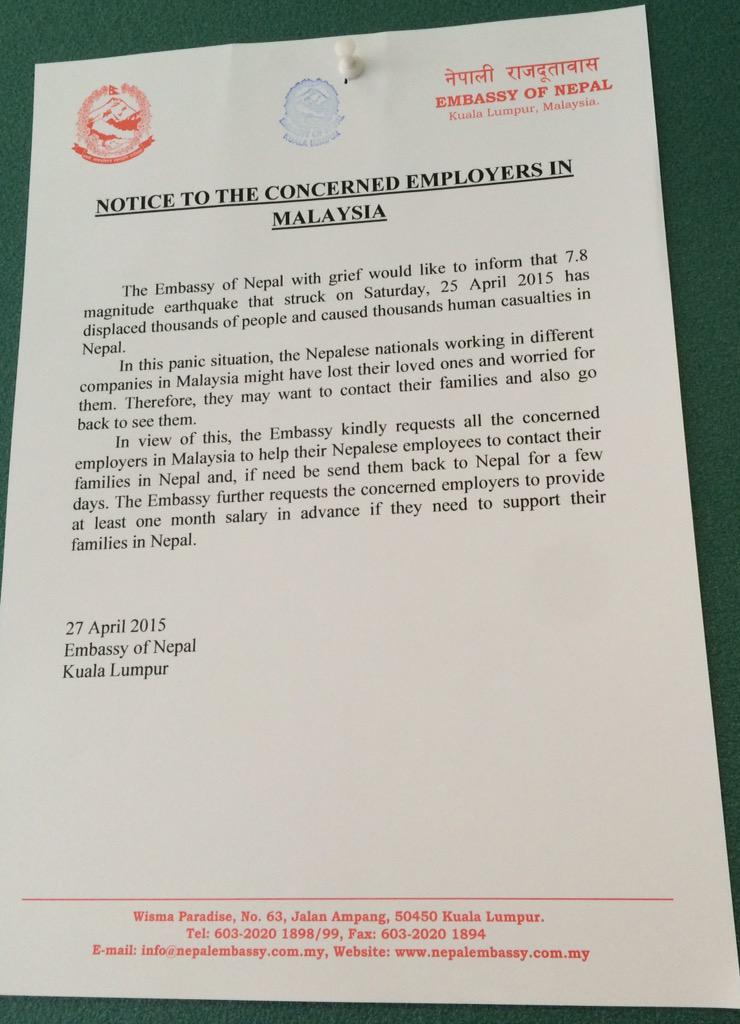 The Nepalese Embassy in Kuala Lumpur, Malaysia, has asked employers of Nepalese nationals in Malaysia to pay them salaries in advance to help staff support their families.
In 2014, there were about 1,876,802 Nepalis living in Malaysia, according to the Malaysian Ministry of Foreign Affairs.
"In this panic situation, the Nepalese nationals working in different companies in Malaysia might have lost their loved ones and worried for them. They may want to contact their families and also go back to see them," a memo shared by the embassy read.
In view of this, the embassy has requested all employers in Malaysia
"help their Nepalese employers to contact
their families in Nepal, and, if need be send them back to Nepal
for a few days".
According to the memo, the embassy also "requests the concerned
employers to
provide at least one month salary in advance if they need
to support their families
in Nepal".
There is a large community of Nepalese nationals in Malaysia,
consisting mostly
of Gurkhas and Madhesi recruited from Nepal,
foreign workers and their families.
Meanwhile, at least 104 Malaysians have been flown back to Malaysia
after being
evacuated from Kathmandu.